BlueMed Platforms
Public dialogue with concerned national stakeholders is essential for implementing the objectives of the BLUEMED Initiative and in particular for the monitoring and the update process of the SRIA. As a tool to ensure constant consultation, four thematic Platforms at Mediterranean level will be created. They are conceived as fora and operative environments where national representatives will interact to convey the messages related to the BLUEMED SRIA and expected to act as dynamic observatories for monitoring the system.
For the BlueMed CSA, Platforms represent the main tool for reaching the objective of the BLUEMED initiative, the finalization of the SRIA and a dynamic implementation plan. The four interconnected working Platforms will allow cross-national communication and interplay among research, private sector, public administration and civil society, pivoting on identified key players of these sectors at national level. Serving as active observatories for monitoring the system, they will update the needs and promote solutions in an integrated way. In the long term, platforms are expected to act as a transnational operation network that will continuously and with a concrete approach monitor prioritized, update and make tangible the SRIA in the Mediterranean.
The four interconnecting Platforms that will promote and support integrated science, technology, economy and political efforts towards an innovative strategy for Blue Growth, are:
Knowledge Platform
---
"Knowledge of Mediterranean Sea dynamics and ecosystems"
Economy Platform
---
"Economic sectors of Blue Growth economy in the Mediterranean"
Technology Platform
---
"Enabling technologies for Blue Growth in the Mediterranean"
Policy Platform
---
"Science to Policy for Blue Growth"


Platforms are composed by the Platform Coordinator, representatives from the BLUEMED CSA partnership and the National Pivots (one for each partner country).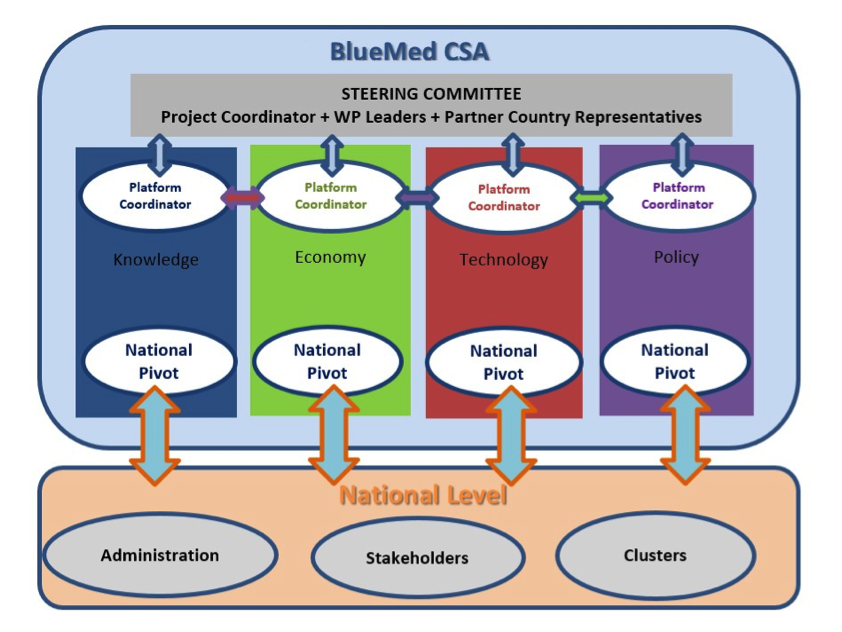 It is responsibility of each country to decide on the most appropriate scheme for the motivation of stakeholders and pivots at national level, eg. through mirror mechanisms.
A visualisation of the Platforms' structures and their interrelation with the CSA and the countries is provided in the diagram above.